Available Puppy Page
Welcome To Our Available Puppy Page
Raintree Country Kennel will provide a complete extensive Medical Record with each puppy. All puppies are examined by our Licensed Veterinian at six weeks of age. All puppies come to you up to date on shots, worming, and on dry puppy food for at least two weeks. Below is the name of their puppy food.

Diamond Natural Puppy Food

Every puppy is given individual attention each and every day, no puppy leaves us until they are at least 8 weeks old, some Toy Breeds are sometimes held longer.
Additional Pictures are available upon request, if you don't find what you are looking for please contact us at:
Email: georgesparkman@hotmail.com
Phone: 573 707-1540
Text: 573 707-1540
All puppies sold within the State Of Missouri will have SALES TAX added to the price of the puppy. We no longer ship puppies, all puppies must be picked up at our home here in Southeast Missouri.

Beneath each pictures will be the puppies nick-name for indentification only, sex, breed, and date of birth. If the puppie is sold and no longer available it will say SOLD underneath the puppies picture.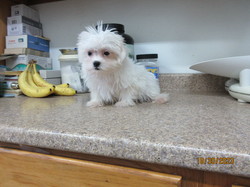 #1 SOLD - " Styx " - Non-Shedding Male Maltese - APRI Registered - DOB 7-24-23 - Available 9-18-23 - Price $1000. Picture taken on 10-31-23.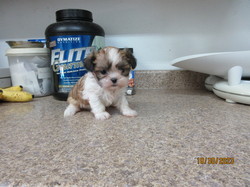 #4 SOLD - " Bella " - Non-Shedding Female Shih Tzu - APRI Registered - DOB 9-25-23 - Available 11-20-23 - Price $1000.